Global Features
Supports Multiple Business Locations
Efficient Multi-Store Management with Quasar
Quasar's robust server architecture is built to seamlessly serve multiple workstations across various stores. Discover the extensive multi-store features that empower your business:
🌐 Multiple Price Zones: Tailor pricing strategies to different areas. Stores in less competitive regions can have distinct price zones, optimizing profitability. For instance, a convenience store or gas bar may operate on a different price zone compared to the main store.
📊 Financial Flexibility: Generate financial statements either by individual store or as a comprehensive company overview. You have the flexibility to consolidate payables and receivables across all stores or maintain them separately, as per your preference.
📈 Centralized Data Access: Access critical inventory reports and information such as stock status and sales history at both the company-wide and store-specific levels. Make informed decisions effortlessly.
📦 Inventory Control: Define, on a store-by-store basis, which items are stocked and set min/max levels and purchase multiples accordingly. Manage inventory costs consistently across your chain or separately for each store.
🔄 Store-to-Store Transfers: Streamline stock transfers between stores securely with Quasar's special transfer screen. This controlled feature ensures that only authorized staff can initiate transfers. Stock on hand is instantly adjusted in the sending store and remains in transit at the receiving store until formally received.
📊 Ledger Transfers: Allocate expenses and account amounts from one store to multiple others using the ledger transfer screen. Ideal for scenarios where an administration office serves as a store, allowing efficient bill payments and expense allocation.
📦 Auto Ordering for Efficiency: Quasar's auto-order feature simplifies order generation for groups of stores, consolidating orders to be shipped to a central location. Stock can then be efficiently distributed to individual stores using the stock transfer feature.
Quasar empowers multi-store businesses with advanced tools and capabilities, making management a breeze across your entire chain. Unlock the potential of streamlined operations and enhanced control today!
Quasar Administration Tool
Efficiency and Control with Quasar Admin Tool
Experience the convenience and control offered by the Quasar admin tool. This versatile tool empowers you to:
🏢 Create New Companies: Effortlessly establish new companies within your Quasar environment. Select and manage databases seamlessly.
📂 Efficient Backup and Restore: Safeguard your company's critical information with robust backup and restore functionality. Ensure data integrity and quick recovery when needed.
🔄 Database Driver Configuration: Define and configure the database driver settings to align with your specific requirements. Tailor Quasar to your unique needs.
👥 User Management: Gain visibility into currently logged-in users, enabling effective user management and system oversight.
🔄 Version Updates: Seamlessly update company data when transitioning from one Quasar version to another. Stay up-to-date with ease.
🗑️ Database Management: Enjoy the flexibility to delete company databases as needed, streamlining your data management processes.
📥 Effortless Data Import: Simplify data management by effortlessly importing data into your company's database. Enhance data accuracy and accessibility.
The Quasar admin tool empowers you with comprehensive functionality to efficiently manage your company's data and configuration. Explore its capabilities to optimize your Quasar experience.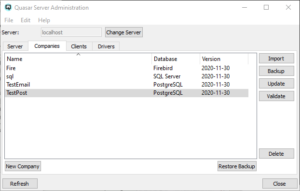 Recurring Transactions
Simplify Regular Billing with Quasar's Recurring Transactions
Streamline your recurring transactions effortlessly with Quasar's efficient tool. Imagine you run a service-based business where you bill multiple customers the same amount each month:
🧾 Create Template Invoices: Start by crafting a template invoice that suits your recurring billing needs.
🔄 Set as Recurring: Convert your template invoice into a recurring transaction. This step ensures automated billing for your chosen customers.
👥 Customer Group Definition: Define the specific customer or customer group set to receive monthly invoices. With this configuration, all customer invoices are generated with a single posting.
With Quasar's recurring transactions, you can effortlessly manage and automate your regular billing processes, saving you time and enhancing efficiency. Discover how this tool can simplify your financial operations.
The Power of Quasar Lists
Customize Your Data Lists with Quasar
In Quasar, every data type you define comes with its own data list. Think of customers, vendors, items, invoices, and purchase orders – they're all data types, and yes, they all have lists.
✅ Sort and Filter: You can easily sort these lists and use filters to refine your view. But that's just the beginning. Each data type boasts its unique data fields, and while Quasar shows some of them by default, you have the power to make the list truly yours.
🔧 Personalize Your List: Customize your data list by adding or removing fields and rearranging the field order. Tailor it to meet your specific needs and preferences.
📃 Print as a Report: Transform your customized list into a printable report, making it easy to share and reference.
🔄 Effortless Access: Once you save your personalized list, Quasar remembers your settings. The next time you access the list, it will display exactly as you've configured it.
Empower your data management with Quasar's versatile data lists. Tailor your view to match your workflow, and experience data organization like never before.
Quasar Reporting
Unlock Powerful Reporting with Quasar
Quasar boasts an extensive library of predefined reports designed to streamline your data analysis. These reports are highly customizable, thanks to built-in filters, ensuring you get precisely the information you need.
🔍 Report Viewer: Dive into your data effortlessly using the report viewer. Explore your reports with ease, making data-driven decisions a breeze.
📊 Export Options: Quasar offers versatile export options. Export your reports as CSV files for data manipulation, as PDF files for easy sharing, or simply hit print.
📈 Standard Reports: Gain insights into your financial health with standard reports like balance sheets, profit and loss statements, trial balances, and inventory assessments. You'll also find specialized reports such as item rankings, item analysis, discount summaries, and price details.
📌 Specialized Screens: Quasar goes beyond standard reporting with specialized screens that provide information tailored to your needs. These screens offer varying levels of detail, ensuring you have the right insights at your fingertips. Plus, most of them allow you to drill down to the transaction level.
Take control of your data with Quasar's robust reporting features. Customize, analyze, and share your insights effortlessly to drive informed decision-making.
Quasar Security
Robust User Security for Your Peace of Mind
At Quasar, we prioritize your data's security. That's why every user must log in with a secure username and password. We understand that different roles within your organization require different levels of access. That's why we offer flexible security settings that you can tailor to your needs.
🔒 Multiple Security Levels: Define and assign security levels by user to ensure that each team member has access to the right information. For instance, a warehouse receiver doesn't need to see or modify customer data, while an administrator may require access to all functions.
📊 Data Permissions: Control who can view, create, update, and delete data for all major data types. This granular control allows you to restrict access where needed.
🖥️ Workstation and Store Permissions: Specify whether an employee can switch between employees, workstations, or stores. This level of detail ensures that actions are performed by authorized personnel.
💳 Financial Overrides: Decide who can make credit limit overrides and credit hold overrides, maintaining control over your financial processes.
🚚 Stock Transfers: Define who has the authority to receive stock transfers, both for their own store and for other stores, ensuring accurate inventory management.
📅 Transaction Date: Control whether employees can modify transaction dates, maintaining the integrity of your records.
Quasar's comprehensive user security settings provide you with peace of mind. Customize access to match your organizational structure, so you can focus on what matters most – running your business efficiently.
Data File Management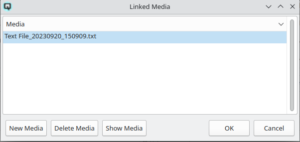 Effortless Data File Management with Quasar's File Linking Feature
At Quasar, we understand that efficient data file management is crucial for your business operations. Our File Linking feature enables you to seamlessly associate data files with any of Quasar's data types, allowing you to access relevant information whenever you need it. Here's a few examples of how our File Linking feature empowers your business:
📂 Flexible Data File Storage: You can easily save various types of data files, including PDFs, images (PNG or JPG), and more. Whether it's a collection of PDFs, an introduction document, or images of important shipments, Quasar's File Linking has you covered.
🔗 Dynamic Linking: Link these files to specific data types within Quasar, such as customers, CRM contacts, or courier claims. This dynamic linking ensures that the right files are associated with the right data, simplifying retrieval and enhancing organization.
📊 Enhanced Customer Experience: Attach essential documents like PDFs directly to customer profiles. For example, you can link a collection of PDF files to a customer, providing quick access to critical information whenever you interact with that customer.
🤝 Streamlined Communication: Improve communication with CRM contacts by attaching introductory PDFs. This feature ensures that you always have access to important documents when engaging with your contacts.
📦 Efficient Claim Handling: In case of a broken shipment or courier claim, you can link images (PNG or JPG) directly to the relevant courier claim. This visual documentation streamlines the claims process and provides clear evidence for resolution.
🔒 Data Security: Rest assured that your data files are securely linked to the appropriate data types within Quasar. Our system ensures data integrity and protects sensitive information.
Quasar's File Linking feature is designed to enhance your data management capabilities. Whether you're serving customers, engaging with CRM contacts, or handling claims, you can count on Quasar to simplify file access and streamline your business operations.